The Final Word game review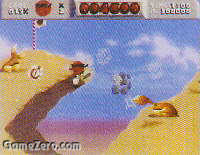 Cool Spot -- Virgin Games
Cool Spot is a lively action game for play on the Sega Genesis. Players must aid one of the 7-Up Spots in his attempt to rescue his fellow Spots. Oversized worlds, cartoon-like graphics, and humorous animations accent this exciting side-scrolling platform game.
Ferrari Man
Whoever said that corporate sponsors could harm the video game industry was completely wrong! Cool Spot is incredible. This is the most fun, action filled cart since Sonic 2! The music adds spice to the game, while the effects are equally entertaining. Nothing was left out here, from the screams as your character falls two stories, to the oversized objects, this game has what it takes to be a winner. I'd expect to see this game bring more corporate sponsors into the video game field. You simply can't pass this one up!
????
Cool Spot definitely lives up to its name and is a game you must own if you have a Genesis. The graphics were very crisp and were a delight to see. Spot's attitude was perfectly captured in this hit. The tunes went well with the game and added a different flavor to the game. I never thought a spot could have such control in a game. With funny animations and character reactions this game is worthy of its price and demands to be bought!
R.I.P.
The one word that comes to mind is cool! Yes, this game has the potential to become a classic for the Genesis... Jammin' toons, excellent graphics, and perfect play control make this game stand out big time. Although I must say my favorite thing about this game is that it captures the true essence of Spot, all the way down to the finest nuances. I had so much fun with this game that it will definitely be a shoe-in for my permanent collection.
Salamander
I normally do not like product placement games, but Cool Spot is a clear cut exception. This is one of the best titles I have seen on the Genesis for quite some time. Spot really brings the characters to life! Worth seeing.
>>>>> 92.5/100 <<<<<
Ferrari Man
????
R.I.P.
Salamander
Graphics
4.5
5.0
5.0
5.0
Sound
4.5
4.0
4.5
4.5
Gameplay/Control
4.5
4.5
5.0
5.0
Longevity/Playability
4.5
4.0
5.0
4.5
Overall
4.5
4.5
5.0
4.5
Total
22.5
22.0
24.5
23.5
Originally appeared Vol 2, Iss 2 (06-07/93)
---
---