The Final Word game review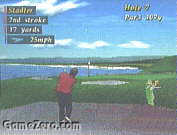 Pebble Beach Golf Links -- Sega
One of the first Sega Sports releases for the Sega Saturn, Pebble Beach Golf Links features seven play modes, multi-player gaming for up to 6 people, and complete narration by Craig Stadler. Players may choose their own golfer, clubs and even caddies. Digitized golfers and several different camera options, including ball cam, are also included.
Ferrari Man
At first site, this game looked great. However, as time wore on it did nothing but grate. Good graphics, okay sound, and off tune gameplay. Not a golfing great, this game will keep you busy for only a while. The excellent graphics do little to disguise a game that was extremely lacking for me. Hold your money on this one.
E.Phoenix
I HATE GOLF!!!! With that out of the way, PBGL didn't come remotely close to changing my mind. Hey, even the graphics suck! Another bad call by Sega.
R.I.P.
Bleck... I'm not that big of a golf fan, and this game didn't do anything to change that opinion. While play-control between the tee and the green is actually pretty good, once you're on the green it's a another story all together. I found myself getting to the green from the back tee in two to three shots, and then spending the next ten or more putting the ball directly over the hole until it just -happens- to fall in... what I like to call an almost total lack of collison detection! This, and the bland sound detracted from an otherwise fair game. Personally though, if you have a home computer, I strongly recommend you look there for your golfing enjoyment...
Salamander
When I first started playing, I thought Pebble Beach was going to be one of the better golf games I have played. It has its merits, don't get me wrong, but Pebble Beach also has quite a number of problems. Number one: boring. Number two: putting totally impossible. Number three: who goes golfing with a 25mph+ wind? Number four: player two can devastate player one's swing (actually kinda fun). And what's with the fat ugly guy?
>>>>> 54.5/100 <<<<<
Ferrari Man
E.Phoenix
R.I.P.
Salamander
Graphics
4.5
2.0
4.0
4.0
Sound
3.0
2.0
3.0
3.5
Gameplay/Control
3.5
3.0
1.0
3.5
Longevity/Playability
2.5
0.5
1.0
3.0
Overall
3.0
1.0
3.0
3.5
Total
16.5
8.5
12.0
17.5
(06/95)
---
---