The Final Word game review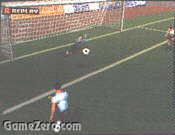 Worldwide Soccer -- Sega
Three dimension rendered graphics with dynamic camera control put players on the field in Worldwide Soccer. Players can choose from one of a dozen of the world's best teams in exhibition, World League, tournament or shoot-out modes. Up to six players can compete in this realistic sports game for the Sega Saturn.
Ferrari Man
This was by far my favorite game of the initial release of Saturn games. The graphics were clean, and the action non-stop. The up to 6-player mode was incredible. Although the vs. computer mode was pretty easy, since the focus was in multi-player this did not seem to distract from the game for me. I did, however, find the ability to save multi-player seasons to be unique. Very few soccer games have gotten even close to Sega's new offering. A must have for any sports fan Saturn owner.
E.Phoenix
WS plays a pretty good game of soccer complete with interesting camera angles, fantastic rotation, and good player control. I never really liked soccer, but WS is kind of fun.
R.I.P.
A decent soccer game, although I didn't find it all that exciting. Graphically, this title is great to watch. Sound is good also, and the music while interesting doesn't distract you during play. Play-control is pretty good, although I wasn't completely satisfied with it. If you're big on soccer you will probably enjoy this title... Me, I'm not all that big on sports games, and it takes a real wowser to impress me... I wouldn't call this game a wowser.
Salamander
This I like. Worldwide Soccer is among the best soccer games I have played. The graphics are good, and I like the on-the-fly camera adjustment. The real hook here, however, is the gameplay. Your players handle very realistically (I've played soccer for over 10 years, don't argue) and you have plenty of control. The computer is a bit too easy, however, so you should plan on playing with a friend or two.
>>>>> 78.5/100 <<<<<
Ferrari Man
E.Phoenix
R.I.P.
Salamander
Graphics
4.0
4.5
4.5
4.0
Sound
4.0
4.0
4.0
3.0
Gameplay/Control
5.0
4.0
3.0
5.0
Longevity/Playability
4.0
2.5
2.0
4.5
Overall
4.5
4.0
3.5
4.5
Total
21.5
19.0
17.0
21.0
(06/95)
---
---