XBAND XCLUSIVE
If you haven't already seen the great write up on XBAND here, check it out and then come back here for the XBAND XCLUSIVE update. Just one correction in an otherwise flawless piece of reporting -- the XBAND Modem retails for $19.99. Boys and girls...this is totally affordable. And when you read on and get a peek at what's happening online, the monthly fees* , well, they'll seem pretty darn reasonable too.

SO, what are we doing here...in the Game Zero site? If you're an XBAND member already, you're bound to notice the introduction of a weekly BANDWIDTH page authored by the folks at GameZero. They'll be passing along interesting tid-bits, tips and industry news hot off the wire and straight into BANDWIDTH, the XBAND online newspaper. In return, they offered us this space. So here we are, and we're pretty darn happy about it.

XBAND ConneX
Starting September 25...Super Street Fight II Week
Capcom, creators of Super Street Fighter II (SSFII) and XBAND kick off a series of weeks honoring the newest XBAND supported titles. XBAND members will be able to vie for prizes and online awards by participating in a range of activities that will be offered over the network. So rev it up and, if you haven't already, get your hands on CAPCOM's SSFII -- rent it a Blockbuster or buy it wherever video games are sold -- and XBAND your gaming experience.
Here's what we're planning...

PLAY, PLAY, PLAY
Wild Card Contests
Match up with a special SSFII character icon
(that's a Capcom expert) and win; win the match and win again!
Top Dog of the Top Ten
XBAND top ten list players post the most wins
...can they best the CAPCOM experts head-to-head?
Most Completed Games
Imagine, the more you play, the better your chances to win!

X-MAIL CONTESTS
Think you know SSFII?
We'll be posting daily trivia question in BANDWIDTH --
check it out and answer the five burning questions and you could be a winner.


Top Ten, XBAND Style
Think you could do a better job than Letterman at creating a Top Ten List? Now's your chance to submit one clever reason that could proudly take its place on a "Top Ten Reasons why SSFII is the best fighting game" List. How easy is this? If you're an XBAND member, keep watching BANDWIDTH for news of SSFII Week. If you're not, just look at what you're missing!
Watch for upcoming events featuring Killer Instinct, Primal Rage and WeaponLord. More to come watch this space or read BANDWIDTH.
That's it for now...Any questions or thoughts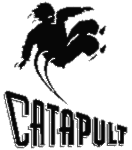 Modem X (modemx@catapent.com)