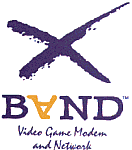 XBAND XCLUSIVE
Read on to find out about XBAND for the PC, but first, a word about XBAND for Sega(tm) Genesis(tm) and Super NES(r)


I'm baaaaack. Modem X here for another installment of XBAND Xclusive through our pals at GameZero. If you missed the last couple of weeks, we previously spoke about our collaboration with GameZero (we'll be keeping you up-to-date on their site and they'll be keeping XBANDers in the know via XBAND's on-line newspaper, BANDWIDTH) and XBAND's Super Street Fighter II (SSFII) Week, a joint venture with the folks at CAPCOM who created it.


Well, SSFII Week on XBAND was a smashing success. The pros at CAPCOM are still reeling from the severe trouncing they received at the hands, or should I say fingertips, of the XBAND membership. It's not that they're so bad, mind you, it's just that XBANDers are so darn good!
It's a common problem for people who generally play the computer, or just one or two good friends, to think that they're pretty hot. The litmus test is spending a couple of hours on XBAND. This is where the baddest, toughest gamers congregate. A reporter from the Oakland (CA) Tribune described it like this "There are two types of people on the XBAND Network -- the quick and the dead. Entering into this realm is a lot like walking into a bar in Big Whiskey, Wyoming, circa 1878. Nobody is glad to see you, and if you ain't careful, you could get decked!"
So we gave away loads of CAPCOM and XBAND merchandise -- prizes for the online trivia and other contests we conducted as well as the Wild Card where the CAPCOM pros (with a special SSF icon) randomly matched up with XBANDers.


Now we're getting ready for a host of new on-line events... Watch for Primal Rage Week (Sega) (with support from the team at Time Warner Interactive) and Killer Instinct Week (Super NES) (with support from Nintendo) coming the week of October 16. Again, we'll give away prize paks with game company and XBAND stuff, so if you're not on...


So for all of you thinking, WOW!, it would be great to have all the capabilities of XBAND on the PC, XBAND for the PC is about to be available via game bundles, OEM bundles and maybe through our Web site. We signed up our first game developers and will be supporting Accolade's Hard Ball 5, Zombie's Locus and CAPCOM's SSFII. This software-only solution is Windows '95 based and will bring much of the 16-bit functionality to the PC including stat tracking, our on-line newspapers, easy matching for head-to-head real-time gameplay and player recognition. For those of you who have been hankering for more excitement in head-to-head gaming, XBAND will clearly be the service of choice! We'll be doing some beta testing soon and be up and running in '96!


That's all for now. X-Mail me at modemx@catapent.com with any suggestions or comments! See you soon with some very exciting news about a big, bad tournament we'll be doing with EA SPORTS!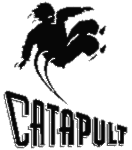 Modem X (modemx@catapent.com)