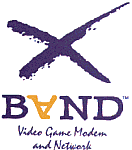 XBAND XClusive
---
Happy New Year
It's 1996 and XBAND resolves to bring you the best in PC and console gaming. And there will be more... we are dedicated to the proposition that ALL gamers should have the option of connection... so keep checking in, we're always on the move.
In case you forgot...
What is XBAND?
Head-to head gaming that's fast and fierce with the hottest titles around.
Want an opponent? Got that, you automatically get matched.
Want to play it safe and match up with a pal? Got that, too.
Want your stats kept on each game you play? Done.
Want to send electronic mail from your Sega or Nintendo? Believe it.
It's all that and more..
What is XBAND PC?
Only the newest and most exciting online gaming service to grace the PC. We'll start off by offering head-to head-gaming and, before the end of the year, we'll be introducing our multiplayer product... now THAT will be sweet. Keep checking this site for updates about Beta versions -- look for first Beta product starting early this year.
The first games we'll support might sound familiar... that's because they are some of the most popular Win 95 titles around like DOOM II, MechWarrior II, Descent, Hard Ball 5, Super Street Fighter II and more. We'll be the ones who will bring all the popular twitch games to the PC. AND great chat rooms, customized player Icons with image, sound and animation; stats, ranking and national tournaments. Check back here and when you pick up your favorite game, see if it's got our "Play It on XBAND" logo and a box insert.
If I had a crystal ball, I think I'd see long days and sleepless nights in your future.
Currently on XBAND
KILLER INSTINCT TOURNAMENT
With the finals right around the corner (see new schedule below), a field of 20 finalists has been culled from the five Qualifying Rounds begun the week of December 18. Below please find a list of the top 20 KI Players, ranked and raring to go. The remaining 12 have been selected through a Tips &amp Tricks editors' Wild Card. If the player matched with our Tips &amp Tricks editor (their character icon was a devilish 1996 baby... party hat and all) and won, they would immediately advance into the finals. The names of those lucky XBANDers follow the 20 ranked players. They'll join in for the finals starting January 8.

PRIZES
1ST PLACE               $200 in cash and an interview with the editors at
                        Nintendo Power Source, the popular Nintendo AOL site.
2ND PLACE               $100 in cash
3RD PLACE               $75 in cash

KILLER INSTINCT TOURNAMENT FIELD (32)
Top Twenty

Ranking
Names
Ranking
Names
1.
BABY 8X
11.
*Eternal Death*
2.
ViRuS (U*D)
12.
HITMAN19
3.
Black Griffon
13.
I've got WORMS!!
4.
I))iSTER ?*/)bI(*
14.
RYU1-RevLine
5.
MeANGReeN (NbK)
15.
Mickey(FL)
6.
Araya
16.
Santa Fred
7.
1 CoIoneI WiIIiam F.
17.
UNDERTAKER-R.I.P
8.
"BOO!!!"
18.
Hattori Hanzo
9.
Cozmo
19.
Snake StyIe
10.
The Grimripper
20.
"MURATA"
Tips & Tricks KI Wild Card Winners (unranked)

VORTEX 45       CNL 1000      CYBERTRACKER
Battle Angel+   CHEBA CHEBA   Dream Theater+
HELL HOUND!     KI KILL'      KiLLeR KoOpa
KRAZY KILLA!    MOFO2         THE MASSACRE

They'll all compete in the finals... Here's the schedule:
Killer Instinct Finals Schedule

Monday, January 8, 1996       5-6:30PM (PST)   32-16
Wednesday, January 10, 1996   5-6:30PM (PST)   16-8
Friday, January 12, 1996      5-6:30PM (PST)    8-4
Monday, January 15, 1996      5-6:30PM (PT)    4-2-1

---
KRIS KROSS WEEK -- Starting January 8, 1996
Join us as XBAND and Columbia Records celebrate the introduction of the latest album from Georgia Super Stars Kris Kross available that same week. We'll be giving away limited edition Kris Kross Nike Jackets, autographed CDs and funky Ts during a series of on-line contests including trivia and a scavenger hunt... what's that? You should be on XBAND. Listen for the top single from the album "Tonite's Tha Night" -- it's moving up the charts like crazy!
---
Winner's Circle
Madden NFL 96 XBAND Challenge: From 2500 to 2
Mr. Hockey1 and Mufasa1 best field of 2500 for Grand Prize Or... How couple of guys from the south snagged a trip to Super Bowl XXX.
CUPERTINO, CA (January 3, 1996)....Hearts were racing, palms sweating and tensions high, and that was just among the XBAND Tourney Team. You can imagine how it was for the final four-- the semi-finalists in the Madden NFL 96 XBAND Challenge -- the best of the best Madden players in the nation's largest on-line video game tourney, sponsored by EA SPORTS, Catapult Entertainment and Electronic Gaming Monthly. It had taken commitment, guts, smarts and stamina to reach this pinnacle and only a couple of hours to hail the Conquering Heroes. The Spoils: A trip to Super Bowl XXX for 2; VIP passes to the Madden Bowl and NFL Expereince and $500... hey, a guy's gotta eat!
The Annoited -- Mufasa1 (Sega) and Mr. Hockey1 (SNES) -- will be immortalized in a feature article in Electronic Gaming Monthly. Not bad... in a couple of months about 400,000 game fanatics will be reading about the two XBANDers who rule the Madden Gridiron... after all, for all the talk, these guys proved they're the best. Because there are no better video game players than those on XBAND, they're DEFINITELY the best.
What they did then to get here now...

It was a grueling contest that started back on November 18 when the first qualifying round took place. This was not for the weak hearted... to qualify you had plan to spend some quality time with Madden. Each round as 3 hours per day on two consecutive days -- win the most games and score the most winning points, be one of the top eight and you'd advance. There were eight qualifying rounds spread over a three week period of time yielding 64 finalists per platform (Sega and SNES). An average of 550 players logged per round and over 2500 overall participated in the tournament making it THE largest on-line video game competition ever. Mufasa1 qualified in Round #7; Mr Hockey1 showed his prowess early on by qualifying in Round #2.
Single elimination -- a bad "air" day and you're history

The 64 were ranked -- Mr. Hockey1 weighed in at #3 for SNES; Mufasa1 a respectable, but definitely "dark horse" #45 -- and then the fun really began. Round 1 would take the field from 64 to 32, then 32 to 16. While everyone received a Madden NFL 96 XBAND Challenge limited edition T-shirt (hefty T, long sleeves, classy T) and NFL on Fox cap, if you made it into the top 16, the prizes started to kick in.
All received 3 months of XBAND free and a 1996 EA SPORTS game... next milestone, the top 4 where you add one year of XBAND and 3 more 1996 EA SPORTS games. Winner's choice of games, naturally.
MADDEN NFL 96 XBAND CHALLENGE
SNES
Semi-Finals

Mahlo       vs. Conehead
Mr.Hockey 1 vs. The Big Cheezz!!

Finals
Conehead vs. Mr. Hockey1

Grand Prize Winner
Mr. Hockey1

SEGA
Semi-Finals

Shadey          vs. Ruffian
G State Hustler vs. Mufasa1

Finals
Ruffian vs. Mufasa1

Grand Prize Winner
Mufasa1

Congratulations to all 128 who qualified ....
Here're the Top 16 (ranked)
Sega Players

Ranking
Names
Ranking
Names
1.
SEGA MASTER!!!
9.
BAD ASS
2.
SHADEY
10.
N A S T Y is back!!!!
3.
BLACK PEARL
11.
DA PUNISHA
4.
DORR MAN
12.
FED-UP!!
5.
GAME WIZARD
13.
MUFASA1
6.
RUFFIAN
14.
BODY ROCKER (LM)
7.
DRE DAY 1
15.
JAYMAN_EB
8.
KILLER94
16.
STATE HUSTLER
SNES Players

Ranking
Names
Ranking
Names
1.
MAHLO
9.
MASTER J1
2.
$TORMTROOPER
10.
LIGHTFIGHTER
3.
MR.HOCKEY1
11.
KI KING
4.
GOOROO
12.
STORM6
5.
CONEHEAD
13.
A.S.A.S.I.N
6.
THE KING4
14.
Cornholio!!
7.
THE BIG CHEEZZ!
15.
Bass Man NYHC
8.
SCORCHER1
16.
KAOTIC
Look for more EA SPORTS and Catapult events throughout 1996.
---
MK2 Tournament
SphiNX (SNES) and Sareh Ed Nos Aj (Sega) Grab the Brash Ring
Who says it's just a game, anyway? This is one spot where the creamed do NOT rise to the top! MK2, a cross platform favorite, now has its champions... the guys you're going to have to best to feel even remotely worthy. A pocketful of cash was the top prize in this MK2 tourney, but you can bet the attendant bragging rights are equally valuable among this skilled group of fighting fanatics.
There were 20 who qualified by wracking up the most wins during one of 5 qualifying rounds... each was 90 minutes long. A Team XBAND Wild Card event then identified an additional 12 lucky finalists for each platform. (During a Wild Card if you are matched with one of the Team XBAND players and beat them, you go directly to the finals.) 32 entered the finals.
The single elimination finals took place over 4 days with Round 1 whittling the group from 32 to 16. By December 21, we had our winners and it was no doubt an even happier holiday for our first, second, and third place finishers who pocketed $200, $100 and $75 respectively. Congratulations to all.
MORTAL KOMBAT 2 --- The Top 4

SNES
1.      SphiNX
2.      Baby 8X
3.      SIZZAHANDZ
4.      Ridge Renegade

SEGA
1.      Sareh Ed Nos Aj
2.      Mr. Joker
3.      Harkonen!!!
4.      KosdIR-7-Bandit

MK2 Finalists (Ranked)

Sega
1.    THeHeaRTBReaKKiD
2.    Dream Theater
3.    Harkonen!!!
4.    *"STARR"*
5.    Kosd1R-?-Bandit!
6.    THE UNKNOWN XXX
7.    *THE MASTER JON
8.    *HIGHBLOOD
9.    *GOOFUS*
10.   MURDER MAN
11.   RUNE
12.   Darkstalker
13.   SOUL KEEPER!!!
14.   *Corwin
15.   Sareh Ed Nos Aj
16.   *STORM SHADOW
17.   GINZZU
18.   KIMO
19.   YODACAT87*P
20.   arctic wolf
21.   G DAWG #1
22.   "GATE  KEEPER"1
23.   WILDMAN!!
24.   SLICE JAY*
25.   Mr. Joker
26.   M.O.B. RULES!!!
27    MANJIMARU
28.   "WARLOCK"(666)
29.   EXODUS (?)
30.   Tzui Ling Hon  (CD)
31.   SPEARING MARLIN
32.   KOMA

snes:
1.    Russ
2.    SIZZAHANDZ
3.    XTC
4.    SphiNX
5.    the OVERFIEND
6.    The Nightmare
7.    Waaagh! (H*E)
8.    __TheO_Of_NbK_
9.    RIDGE RENEGADE
10.   Dark Wraith
11.   BABY 8X
12.   *MERLIN*
13.   el hatred maximo
14    BANE
15.   NEGATIVE CREEP !
16.   " LOST  SOUL "
17.   DreamLord
18    Saronno(FL)
19.   JARLAXLE
20.   DIAMOND 16
21.   Jean Luc Picard
22.   el Zero
23.   eraser-head
24.   SCORPION14
25.   -Gokou-
26.   SKULL HEAD1
27.   Sereal Kila
28.   Buzz Lightyear
29.   R.A.G.E
30.   *SPEED FREEK*
31.   VAN DAM (KILLER)
32.   !!FREAKAZOID!!

---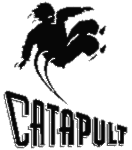 Modem X (modemx@catapent.com)
Catapult Entertainment, Inc. was formed to create premier products and services to support networked real time interactive entertainment. The XBAND video game network, in operation since November 1994, is the only head-to-head on-line gaming service for the Sega Genesis and Super Nintendo platforms. XBAND for the PC, a collaboration between Intel Corporation and Catapult, will be introduced in December 1995. Equity partners include Viacom Corp, Blockbuster Entertainment Group and Nissho Iwai, whose wholly-owned subsidiary, Catapult Entertainment Japan, will launch XBAND for the Super Famicom platform in November 1995. Catapult is a private company based in Cupertino, California. More information about Catapult Entertainment and XBAND products can be found at www.xband.com.
---