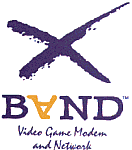 XBAND XClusive
---
XBAND XClusive
February 1996
International Chess Federation Ranking Plan used as Blueprint
Much to the delight of XBANDers around the country, comes the national rankings of all players on all games. Each week XBAND posts those who manage to navigate the network waters and come out ahead for all gameplay recorded within that week's time. Unlike the top ten which awards those with stamina, strong thumbs and network muscle who post the most wins, the national rankings take into consideration total gameplay -- wins, losses and opponent ranking -- and rates the players accordingly.
Here's how it works:
Everyone on XBAND starts with a rating of 1,500 for each game. We then award points for wins based on the skill level of the person played. So, if you play a lesser level player than you and win, your rating will improve only slightly; play a player of equal skill and win, you will advance more; play a higher skill level player and win, you will advance a lot.
Your rating can also go down. The lower the rating of your opponent, the more your rating will go down if you lose. Your rating has the potential of changing every time you play. Ratings will be tracked by our technical team and Player List challenges do not count.
In order to be eligible for the list, XBANDers must play at least one game during the week with NO resets. We will post the XBAND National Rankings along with the Top Ten list for each XBAND hit.
Check out the XBANDers who've made the national rankings under STATS.
MiSTER ?*NBK* trounces competition in KI Tourney, grabs a couple of C-notes and heads off to tout his win in Nintendo's AOL site
The action was nerve wracking... the best Killer Instinct players head-to-head, toe-to-toe, teeth-to-jowl... you get the idea... it was pretty nasty -- our recent KI Tournament. Up for grabs? Dinero, dracmas, rupies, the long green ----- $200 for first place, $100 for 2nd and, nothing to sniff at, $75 for third.
Over 1,500 players participated in the five qualifying rounds where the top four (4) from each round advanced. A total of 20 moved to the finals where they were joined by an additional 12 contenders plucked from a Wild Card event. So, with finalists both very skilled and very lucky, the single elimination rounds -- the great equalizers -- took place finishing January 15.
MiSTER ? *NBK* rose to the top but it was not easy. Kudos to ViRus (U*D) who came in Second and *Eternal Death*, our Third place winner. Knocked out of the running, but in it until the last hit... Honorable mention to our youngest finalist COZMO, all of 12 years old, who came in 4th.
MiSTER ? *NBK* is now practicing his typing so he can whip out the answers when he takes center stage with Nintendo in Nintendo Power Source, their AOL site. Mr. ?, for short, has a computer and AOL account so this was easy! He'll be holding court in a week or so where, we expect, a lot of visitors will be testing his KI savvy.
Killer Instinct Trivia
For those who might be knowledgeable about KI, but not so good with the moves, XBAND ran a KI Trivia Contest. Straight from the tree house at Nintendo (that's where all the developers and programmers hang out while thinking up new ways to torture your hand-eye coordination and mind), the questions are tough, but not too tough... certainly not for our XBANDers! Here are the CORRECT answers for all you trivia buffs:
1) What is the name of the city TJ Combo goes to in his ending? (Combocity)
2) How do you access the hidden sky stage? (When you select your character, press and hold down on the control pad and the Medium Kick (MK) button on both controllers)
3) What is a 10 hit combo called? (Monster Combo)
4) If your opponent jumps in and hits you with a Medium Punch (MP), then auto doubles to the Fierce Kick (FK), what button do you use to Combo Break? (You use your Medium Breaker)
5) How do you get Sabrewulf's double swat that makes a two hit Dizzy? (Do the Sabre Cut and as soon as the first cut hits, go back and use medium kick to get the second swat that causes a two hit Dizzy)
The Good, the Bad, and the Lucky!!!
Sound the Trumpets, for our 10 Killer Instinct Winners, chosen from random from all the correct questioners! Winners received an XBAND prize pack.

1.  HELLRAiSER
2.  -THE CROW-
3.  Kim Wu
4.  Yoshman
5.  Araya
6.  da KI KING
7.  Gamegod2
8.  -Liquid Swords-
9.  ALVINO CARTINI
10. CharLZ ManSoN

Columbia Records and XBAND celebrated the introduction of the two Chrisses latest CD... Young, Rich & Dangerous... with the 90s version of the old scavenger hunt -- you don't bring the stuff back, you X-Mail us with the answers! XBANDers had to actually go out of the house and do a little sleuthing to find out the answers to questions about the dynamic duo. Here's what they had to uncover...
1) What are Kris Kross' real names? (Chris Kelly and Chris Smith)
2) Jump is the hit single off Kris Kross' debut album. Name the album. (Totally Krossed Out)
3) Kris Kross wrote and produced two songs in their latest album Young, Rich & Dangerous, name one of them. (Money, Power and Fame; Hey Sexy)
4) What page is Kris Kross' ad in the January issue of Vibe magazine? (Did we fool ya'? This was a trick question, cruel but true)
5) Name the prison inmate in the XBAND Video. (Tiny)
Kongrats to Kris Kross Scavenger Hunt Winners!
High fives all around to Wicked Clown, who's the lucky recipient of a very Kool Kris Kross Nike Jacket from Columbia Records. All winners were picked at random from the tons of correct entries we received. Here's our list of the chosen few:
10 Winners - autographed Kris Kross CDs

1.  FLESH
2.  SNYMAN
3.  Hornet1
4.  Kas
5.  SCHWEET
6.  Crimson Glory e,3
7.  Hokie3
8.  SLICK RICK.
9.  Danny
10. SHOWGIRL X

5 Winners - Kris Kross Tees

1.  ICE - 13
2.  -DR. JEKYLL
3.  THE PARSEC!
4.  NICHOLAS1
5.  Banodyne

Madden NFL 96 XBAND Challenge Winners Take on Tempe
They whipped a field of 2,500 to take the grand prize in XBAND and EA SPORTS' Madden 96 Tournament -- a trip to Super Bowl XXX.
We haven't heard directly from the guys, but understand from our operatives at EA SPORTS that our Madden 96 XBAND Challenge winners had a great time in Tempe. Their plane had barely landed before they headed to downtown Tempe for the celebrity party held for Madden Bowl participants. EA SPORTS holds the Madden Bowl each year -- the Super Bowl of the Madden video game series concurrent with the Super Bowl -- and it was WILD! Then on Saturday, at the NFL Experience, they attended the Madden Bowl Finals. Reggie Brooks of the Redskins, the reigning champ, scored again by winning the tournament then scored REALLY big when he got his picture taken with OUR champs! Now, what did they do on Sunday? Hmmm. some game, I'm told. We'll wait and let THEM tell you how it was to be one of the 70,000 watching that great game.
Check out EGM's April issue for an on-site interview with Mr. Hockey1 (SNES) and Mufasa1 (Sega) and, we're told, that photo of Reggie and our winners!
A new twist on an old favorite...
XBANDers who make the top of the heap... numero uno on the Top 10 List... will then be able to take on other XBANDers, for prizes, in our new Champs vs. Challengers feature. This week it's SSFII Week and we've tapped Yurei Shiro (SNES) and *NOTHINGNESS* (Sega) and they are anxiously awaiting execution of their two tiered assignment.
In this ongoing event, top XBANDers will be our "visiting" Wild Card X-perts, trolling the network and making matches. Lucky XBANDers who connect will win prizes... if they beat the X-pert, they'll get a bonus gift. In part II of this event, the same top XBANDer will then take on a series of opponents who have won the chance based on submitting a winning reason. XBANDers were asked to tell us why they should be the one to go one-on-one with the Champ and send it in via X-Mail. So far, it's a big hit... we'll see what happens when the dust settles!
---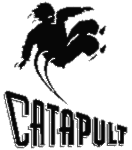 Modem X (modemx@catapent.com)
Catapult Entertainment, Inc. was formed to create premier products and services to support networked real time interactive entertainment. The XBAND video game network, in operation since November 1994, is the only head-to-head on-line gaming service for the Sega Genesis and Super Nintendo platforms. XBAND for the PC, a collaboration between Intel Corporation and Catapult, will be introduced in December 1995. Equity partners include Viacom Corp, Blockbuster Entertainment Group and Nissho Iwai, whose wholly-owned subsidiary, Catapult Entertainment Japan, will launch XBAND for the Super Famicom platform in November 1995. Catapult is a private company based in Cupertino, California. More information about Catapult Entertainment and XBAND products can be found at www.xband.com.
---