---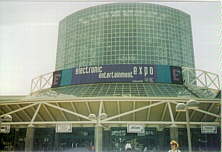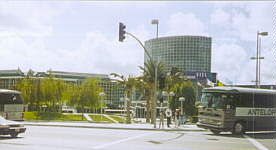 The Los Angeles Convention Center
There was a lot of speculation at the Game Zero Headquarters as to what was going to happen at the first E3 this year, but the outcome was far from anyone's expectations. From the early release of the Sega Saturn, to scarcely a mention of the Ultra64 at the Nintendo booth, there was lots of commotion. Sony was also causing their own stir with over 200 titles in development from 160 PlayStation licensees, and a debut price of only $299.00. With all of these announcements, game companies were scrambling to get their software noticed. Below is our objective look by company of the newest hardware and software, directly from E3 in LA!
---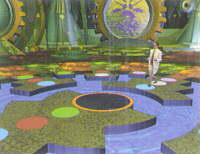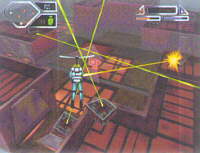 Zhadnost: The People's Party - 3DO (left), BladeForce - 3DO (right)
3DO Company
3DO previewed development shots from the M2, an upcoming upgrade to the 3DO. This powerful system, based on the PowerPC 602 processor, includes an impressive array of 3D hardware such as on-board texture mapping, mip mapping, goraud shading, hardware z-buffer, and texture compression. Expect to hear much more as the summer progresses.
3DO also demonstrated their long awaited new game, Daedalus Encounter. Other Studio 3DO titles announced included BladeForce, BattleSport, Captain Quazar, Killing Time, Zhadnost: The People's Party, and Primal Rage. Zhadnost: The People's Party, a zany game-show puzzle title, will come with an extra 3DO controller packed-in.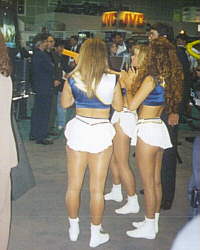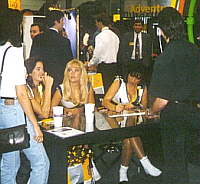 Chargers cheerleaders at the 3DO booth.
---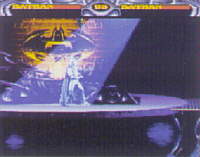 Batman Forever (left), Judge Dredd (right)
Acclaim
Acclaim has several hot titles coming this year including the movie titles Batman Forever and Judge Dredd for the SNES, GameBoy, GameGear, Genesis 32X, Saturn and Sony PlayStation. Both titles feature intense graphics and digitized footage from their respective films. Other hot movie titles include Stargate and True Lies for the SNES, GameBoy, Genesis and GameGear.
Several non-movie titles are equally interesting. Frank Thomas "Big Hurt" Baseball features 1995 stats and Bill James' projected stats and attributes for all the major league players. Justice League is a new one-on-one superhero vs. superhero fighting game for the Genesis and SNES. Spiderman and Venom return with the all-new Venom/Spiderman: Separation Anxiety. Other titles new this year include Cuthroat Island, Revolution X, Looney Tunes Basketball, NFL Quarterback Club '96, Foreman: For Real, WWF Raw, Warlock, and MYST, all cross-platform releases. Along with Myst, Acclaim also displayed Robotica, a 3D first-person perspective robot tank game, for debut with the Sega Saturn. Turok: Dinosaur Hunter, also premiered, under development for the Ultra 64.
---
---
[ New Contents ]
[ Classic Contents - Articles - Reviews - Comics - Codes ]
---