---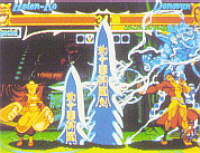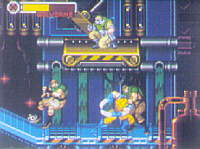 Night Warriors - Saturn (left), X-Men - SNES (right)
Capcom
Capcom celebrated its 10th Anniversary in the video game industry with new releases such as Street Fighter II, the Movie - for virtually all platforms this fall - plus Street Fighter Legends for the PlayStation and Saturn to be released next winter. Capcom also debuted DarkStalkers for the Sony PlayStation as well as it's sequel Night Warriors for the Sega Saturn. Other exciting titles included the 16-bit Breath of Fire II for the SNES. This game features four new fighting formations, more strategy, and the ability to combine characters attacks for new battle attacks. This sounds impressive, but the game also allows you to assemble your own allies, build towns, and work with new allies to create over 160 possible character variations. Another title in the SNES Mega Man X series, Mega Man X3 features the usual as well as new graphic effects utilizing the C4 chip.
Another highly anticipated release, X-Men: Children of the Atom, will be available for the Saturn and PlayStation in November 1995 and February 1996, respectively. Other next-gen titles slated for release are BioHazard for the PlayStation; Incredible Toons for the PlayStation and Saturn; Street Fighter: The Animated Movie Game for the PlayStation, Saturn and 3DO; and D & D: Tower of Doom for the PlayStation and Saturn.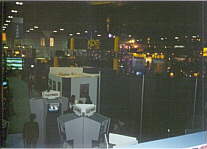 Show Floor from Capcom's booth
---
Catapult Entertainment
Catapult featured their XBAND modem system, an on-line network for multiple-player games on the SNES. This system, already on the Genesis, has initial support for Mortal Kombat II, NHL '95, and NBA Jam Tournament Edition. They plan to make the units cost effective by matching players in the same city. They also have the ability, when necessary, to match outside a players local area through the XBAND Nationwide network, in conjunction with MCI for $3.95 per hour. Subscription fees are $4.95 per month for 50 credits, $.15 for each credit over 50, or $9.95 per month for unlimited play.
---
---
[ New Contents ]
[ Classic Contents - Articles - Reviews - Comics - Codes ]
---