---
Crystal Dynamics
Crystal Dynamics premiered many graphically intense games for both the Sega Saturn and the Sony PlayStation. Solar Eclipse, a new 3D space combat thriller, is a 20-level futuristic "blast-a-thon." 3D Baseball '95 is a lifelike baseball game featuring 700 actual Major League Baseball players and their stats. Texture-mapped polygon characters move realistically through motion-capture. In Blood Omen: Legacy of Kain, players play the role of Kain, a reluctant vampire. Feed on the blood of your foes in raytraced arcade-style combat. Blazing Dragons, a cartoon-like graphics adventure created by Terry Jones, director of The Life of Brian and a member of Monty Python's Flying Circus, includes such zany scenarios as Dragon Thumb Wrestling and CAT-a-pult.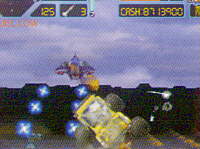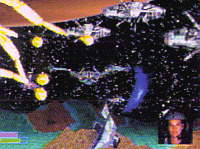 Off-World Interceptor - PlayStation (left), Solar Eclipse - PlayStation (right)
Off World Interceptor as well as Gex, already available for the 3DO, will be ported to the Sega Saturn and Sony PlayStation. In addition, The Horde will be ported to the Saturn.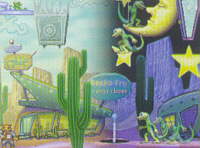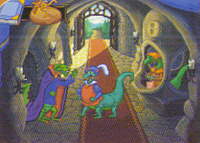 Gex - 3DO (left), Blazing Dragons (right)
---
Cyberdreams Interactive Entertainment
Based on one of the 10 most reprinted stories in the English language by Harlan Ellison, I Have No Mouth and I Must Scream is a nightmarish post-apocalyptic 3D adventure where players must struggle to defeat an all-powerful super computer that has destroyed humanity. Players assume the role of five different characters, each struggling with their own emotional instability. I Have No Mouth and I Must Scream will be available later this summer on the Sony PlayStation. Dark Seed II, the hellish sequel to Dark Seed, features 75 richly textured 3D landscapes and the macabre artwork of H.R. Giger. Dark Seed II will be available this fall on the Sony PlayStation.
---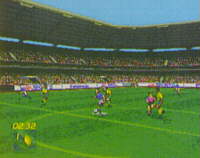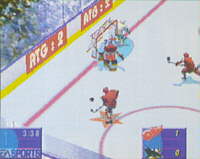 Fifa International Soccer - PlayStation/Saturn (left), NHL Hockey '96 - PlayStation/Saturn (right)
Electronic Arts/Bullfrog
Electronic Arts had many sizzling new titles for the next-generation systems at their booth, including several for the Sony PlayStation and 3DO. One of the early PlayStation releases will be Shock Wave. The PlayStation version will include enhanced graphics and sound, plus five extra missions, previously available as an add-on disc on the 3DO. Enhanced video sequences which run at twice the speed of the 3DO version have also been added. Shock Wave 2 will be released later this year for both the 3DO and the PlayStation, with new vehicles and a 400% larger free-flight play area. Road Rash will be released on PlayStation, available this fall; and from the designers of Road Rash, ShredFest, an extreme action snowboarding sport game, will be available this winter. ShredFest features speed races, trick events, two unofficial bonus events where anything goes, and rock music videos.
In conjunction with Colossal Pictures, EA will be releasing a new interactive comedy/thriller movie, Psychic Detective. As Eric Fox, players must jump into the minds of other people to solve a grisly murder before they run out of time. Psychic Detective will be available this fall for the 3DO and PlayStation. The popular PC title Wing Commander III: Heart of the Tiger will be released for the Sony PlayStation and Sega Saturn, as well as Viewpoint, an improved translation of the NeoGeo title. Players must face scores of SGI-rendered enemies with stunning 32-bit graphics enroute to the final boss. Prowler, a futuristic robot-mercenary action game, will be released this fall for the 3DO. Based on the international television series, ReBoot will take PlayStation and Saturn players into the heart of a computer controlled by a mysterious and ominous force known as "The User."
The sequel to the PC cyberthriller Syndicate, Syndicate Corporate Wars will be released on the Sony PlayStation by the Bullfrog division of Electronic Arts. Syndicate Corporate Wars uses intense 3D graphics with realtime lightsourcing and a 360-degree rotating view to draw players into the midst of a violent capitalistic scenario where powerful syndicates will do anything to own it all.
The EA Sports division of Electronic Arts was equally strong with PGA Tour 96 and FIFA Soccer for the Sega Saturn and Sony PlayStation, NHL 96 for the 3DO, Foes of Ali for the 3DO, and Triple Play Baseball and College Football for the Sega Genesis. Gamers will be happy to know that fighting has been returned to NHL 96, in addition to the enhanced graphics and gameplay. Foes of Ali, an innovative boxing game, includes 10 of Ali's most formidable opponents, motion-captured video, and multiple camera views including a first-person perspective with tunnel vision.
---
---
[ New Contents ]
[ Classic Contents - Articles - Reviews - Comics - Codes ]
---