---
Hudson Soft
Hudson Soft unveiled some of the few Virtual Boy titles seen at the show in their booth. Panic Bomber is a true-3D puzzle game, somewhere halfway between Bomberman and Tetris. The real star product, however, was Vertical Force (working title). This top-down shooter packs the power of all the TG-16 vertical shooter classics - but propels the style to a whole new dimension with multi-planar play. Zoom over, under and around meteoroids, motherships and the evil alien armada as you dodge up and down, in and out of the three-dimensional high speed play area. Hudson also demonstrated Hagane, a side-scrolling martial arts fighting game, as well as Swat Kats for the SNES.
---
Games for Her
A new division of American Laser Games, Games for Her intends to produce games aimed at females ages 8 to 15. Their first release, coming this fall for the 3DO and next spring for the PlayStation, is McKenzie and Co., a live-action social "adventure." Guy problems, slumber parties, prom and other scenarios from high school life are presented in an interactive storyline. Games for Her plans five additional titles, still under development, for later in 1996.
---
GameTek
It is a nightmare in paradise in HELL: A Cyberpunk Thriller for the 3DO. Starring Dennis Hopper, Grace Jones, Stephanie Seymour and Geoffery Holder, HELL features plenty of high-quality video and 3D graphics. A suspense-thriller, players take on the roles of Gideon or Rachel in a futuristic world where - literally - all hell has broken loose. Battle demons, Satan and more as you fight to seal the gates of HELL.
---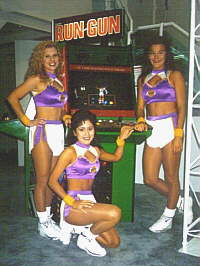 The Lakers girls showing off Konami's new titles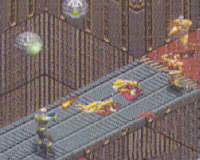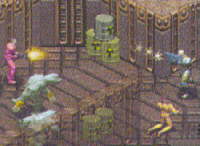 Project:Over Kill - Saturn/PlayStation
Konami
OVER KILL. These are the only words to describe Konami's extreme display - as well as their extreme new game, Project: Over Kill. This hyper-intense 45 degree action title features ultrafine raytraced characters in the most brutal bloodbath ever. With four characters, 50 missions and over 20 methods of destruction, Project: Over Kill is so fierce it makes DOOM look like a waltz in the park. Project: Over Kill will be released for the Sony PlayStation and Sega Saturn.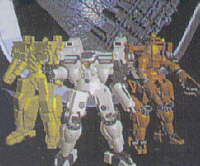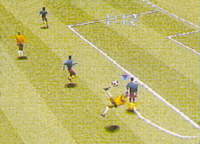 Policenauts - PlayStation (left), 3D Soccer - PlayStation (right)
But the excitement doesn't stop there. Dracula X for the SNES and Castlevania: The Bloodletting for Sony PlayStation and Sega Saturn are powerful additions to the ever-popular Castlevania series. Other hot titles for the next-generation systems include NBA, Policenauts, Parodius, 3D Golf, 3D Soccer and Suikoden. Konami will also be supporting the 16-bit systems with releases such as Run and Gun for the SNES, an excellent arcade translation, and International Superstar Soccer 2, also for the SNES.
---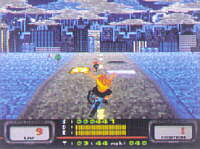 Mountain Bike Rally - SNES/Lifecycle
Life Fitness
Imagine Road Rash on a bicycle and you're playing Mountain Bike Rally for the SNES/Lifecycle Extertainment system. The new, more ergonomic version of the SNES-compatible lifecycle comes packed-in with this game, plus features smooth feedback and response. A small handful of other titles will be added to the library, including a Pacland-style action game.
---
Mindscape
Mindscape presented a partially completed version of Games Workshop's Warhammer Fantasy Battles for release on the PlayStation. This game is very impressive and looks to remarkably capture the feel of the Warhammer series. In addition, the sequel, Warhammer 40,000: Dark Crusaders, will be available early next year.
Also at Mindscape's booth was CyberSpeed, a cross between a driving game and bob-sledding race. The graphics looked very promising. Warhammer and CyberSpeed as well as Steel Harbinger, VMAX, and the Raven Project, are scheduled to be available this fall for the Sony PlayStation.
---
---
[ New Contents ]
[ Classic Contents - Articles - Reviews - Comics - Codes ]
---