---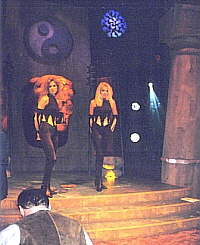 Nintendo was booming the Killer Instinct sound track as the Killer Girls danced.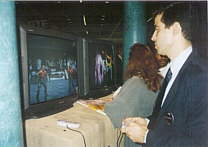 Meanwhile, Ed Boon (Mortal Kombat Designer) was playing Killer Instinct on the SNES pretty intensely.
Nintendo of America
Nintendo brought to life their marketing plans for their Virtual Boy, the 32-bit RISC based true stereoscopic 3D game system. The system is set to debut for $179, with five 3-D titles at release. Although no pack-in has been set yet, the system should launch with Mario Clash, Mario's Dream Tennis, Red Alarm (a first person shooter), Teleroboxer, and Galactic Pinball. Mario Clash was designed in part by Shigeru Miyamoto, the original Mario and Donkey Kong designer. Red Alarm, similar in play to StarFox, is a wireframe first-person space shooter. Coming August 14 Nintendo will release their 3D based red-scale system; later this fall will be the title Wario Cruise.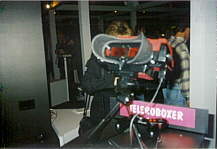 Nintendo's Virtual Boy system is gearing up for release.
Two hot new titles for the SNES were debuted as well -- Killer Instinct and Donkey Kong Country 2: Diddy's Kong Quest. In DKC2, the big guy has been "kong-napped" and Diddy and his girlfriend, Dixie Kong, must save him. The game features 100 beautiful raytraced levels, and will be released in November. They also demonstrated Killer Instinct, and while not like the arcade, it was still stunning. This 32Mb game should be released in August with a pack-in music CD. Also for the SNES is Earthbound, a 24Mb beginners level text-menu-based strategy RPG. This fictional title features modern day settings with a little bit of science fiction, and on-demand pizza delivery.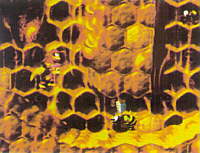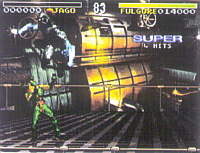 Donkey Kong Country 2 - SNES (left), Killer Instinct - SNES (right)
For the GameBoy, a 4Mb version Donkey Kong Land and Killer Instinct are planned. In addition, Street Fighter 2 will be released for the GameBoy. Classic gamers will look forward to double-game cartridge releases of Asteroids/Missile Command, Centipede/Millipede, Galaga/Galaxian and Defender/Joust.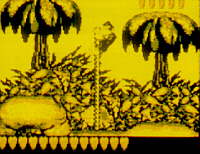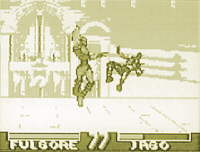 Donkey Kong Land - GameBoy (left), Killer Instinct - GameBoy (right)
The long awaited Ultra64 will be released in April 1996 at less than $250 retail. This true 64-bit system will take full advantage of the Silicon Graphics/MIPS chipset running at an absolutely blazing 500 MHz. Already named the Ultra64 Dream Team, the current line-up includes Rambus Inc. (high speed memory technology), Silicon Graphics, Inc. (64-bit hardware), WMS Industries (joint venture team of Williams and Nintendo to market 64-bit games), Alias Research (3D graphics development toolkit), MultiGen, Inc. (advanced realtime 3D simulation modeling development tools), Software Creations (sound development tools). Game developers Angel Studios, DMA Design, Ltd., Paradigm Simulation, Inc., Rare Ltd. and Rare Coin-It Toys and Games, Inc., Software Creations, as well as game publishers Acclaim (Turock: Dinosaur Hunter), GameTek (Robotech), Mindscape (Monster Dunk), Sierra On-Line (Red Baron), Spectrum Holobyte (Top Gun), Vigin Interactive (untitled), Williams Entertainment (advanced version of DOOM) will all be doing Ultra64 development.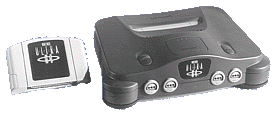 The long awaited Ultra64 hardware has been completed
---
---
[ New Contents ]
[ Classic Contents - Articles - Reviews - Comics - Codes ]
---