---
Ocean of America
Based on the feature film, Waterworld will be a mega-cross platform release on the Super Nintendo, Nintendo GameBoy, Nintendo Virtual Boy, Sega Genesis, Sega Saturn and Atari Jaguar. The scene is set on a haunting post-holocaust Earth, where the polar ice caps have melted, submerging nearly everything and placing man in a life-or-death battle for survival on the open seas. The game is a 3D simulation with texture mapping and complex light sourcing in a seek-and-destroy mission. Also to be released this fall, LOBO, based on the DC comic, features SGI graphics and semi-automatic weapons. Players assume the role of the futuristic bounty hunter himself in a 3D fighting game.
---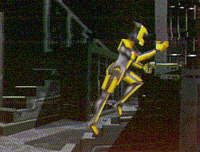 Ballz: The Director's Cut - 3DO (left), Velocity - PlayStation (right)
PF Magic
PF Magic premiered Ballz: The Director's Cut for the 3DO. This new version features new moves and greatly improved graphics with more features to be announced as development progresses. PF Magic will also be developing for the Sony PlayStation, with upcoming titles Velocity and Dimm and Witt.
---
PlayMates
Playmates premiered Earthworm Jim 2. Disguised as a salamander, Jim once again faces Psycrow, exotic worlds and bizarre new characters. The original Earthworm Jim will be released for the Sega GameGear and Nintendo GameBoy.
---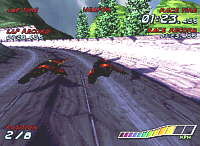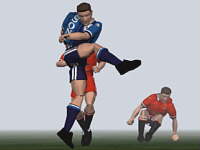 WipeOut - PlayStation (left), PowerSport Soccer - PlayStation (right)
Psygnosis
One of the more twisted games from Psygnosis this year is 3D Lemmings for the Sony PlayStation. Exactly as it sounds, 3D Lemmings challenges players to dissuade those rodents-with-a-death-wish from plunging off that next cliff - that next cliff around the corner, that is. Multiple camera views, including lemming-cam, nine skills and 100 levels promise to make this title very challenging. Destruction Derby, also for the PlayStation, is another title to be reckoned with. This smash-up racing/demolition game features high quality raytraced cars, CD sound, and dozens of tracks. Blow a radiator or snap an axle but don't give up yet - because this game requires much more than finishing first. You'll have to be lucky to finish at all.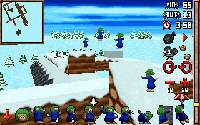 Lemmings 3-D - PlayStation (left), Destruction Derby - PlayStation (right)
WipeOut for the Sony PlayStation is a high-speed futuristic racing game. Wild bends, sleek ships and detailed texture mapping make this a very complete package. Assault Rigs, a TRON-like cybertank simulator, includes 50 3D lightsourced levels in a cyberspace environment. Other spine tingling PlayStation titles from Psygnosis include Sentient, PowerSport Soccer, Krazy Ivan, Myst, NovaStorm, DiscWorld, G-Police, and Parasite.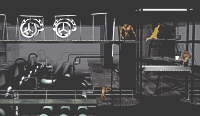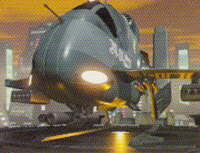 Parasite - PlayStation (left), G-Police - PlayStation (right)
---
---
[ New Contents ]
[ Classic Contents - Articles - Reviews - Comics - Codes ]
---