---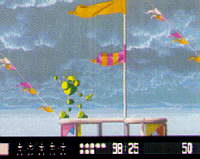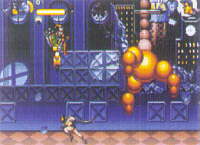 VectorMan - Genesis (left), The Adventures of Batman and Robin - Genesis (right)
Sega of America (continued)
The Sega Genesis also had a first class showing with titles such as The Adventures of Batman and Robin, X-Perts, Comix Zone and VectorMan. VectorMan was among the best of the Genesis offerings with excellent 3D graphics and superior play control. Other upcoming titles include Garfield, Mighty Morphin Power Rangers: The Movie, VR Troopers, Prime Time NFL Football and Nightmare Circus.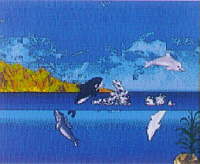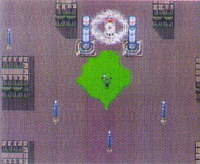 Ecco Jr. - Genesis (left), The Ooze - Genesis (right)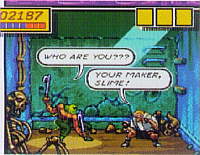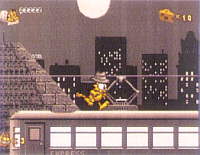 Comix Zone - Genesis (left), Garfield - Genesis (right)
Sega CD owners have plenty to look forward too as well. The Adventures of Batman and Robin features 15 minutes of crystal-clear animation created specifically for the Sega CD.
A different version of The Adventures of Batman and Robin will be released for the Sega Game Gear. Other upcoming Game Gear titles include Mighty Morphin Power Rangers: The Movie, Garfield: Caught in the Act, X-Men Mojo World, VR Troopers, Chicago Syndicate, and Sports Trivia Championship Edition.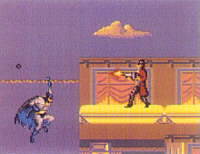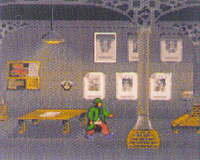 Adventures of Batman and Robin - Game Gear (left), Chicago Syndicate - Game Gear(right)
Sega's preschool/elementary aged system, the Pico, will have over 8 new titles this year, including Disney titles The Lion King: Adventures at Pride Rock and Pocahontas: Riverbend Adventures.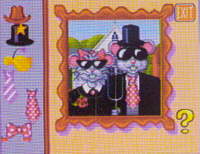 The Great Counting Caper - Pico
---
Seta
Seta featured a 16Mb action adventure title Nosferatu, otherwise known as Vlad the Impaler, or Count Dracula. As Kyle, an American student, you race time in six levels to rescue Erin before the Count consumes her soul. For the SNES.
---
SNK Corporation of America
SNK announced the Neo*Geo CD unit for US release. The system will retail for less than $500, optimized for arcade-style game play. Less aimed at polygon mapping, the Neo*Geo CD features strong sprite manipulation capabilities. Hardware includes 8MB RAM, 7MB DRAM (56Mb), 512KB VRAM and 64K SRAM, max 65,536 color palate, and PCM sound. Over 50 Neo*Geo cartridge titles will be ported to the unit for release, plus 20 all-new titles. However prices will be significantly more affordable than the Neo*Geo cartridge unit. Expect games in the range of $39-$79 US retail, vs. $250 US retail for previous cartridge releases. Early releases include Samurai Showdown, Samurai Showdown II, King of the Fighters '94, Fatal Fury Special, Super Sidekicks 3, Magician Lord, and Baseball Stars 2.
---
---
[ New Contents ]
[ Classic Contents - Articles - Reviews - Comics - Codes ]
---