---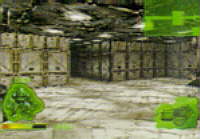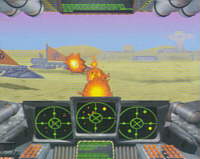 Kileak-The DNA Imperative - PlayStation (left), RazorWing - PlayStation (right)
Sony Computer Entertainment of America
Sony announced a fall US release of the Sony PlayStation, at a retail price of $299. The PlayStation is a high-powered next-generation system with a 32-bit RISC CPU (running at a rather zippy 500 MIPS) and multiple co-processors for 3D graphics and CD stereo sound, 16Mb of RAM, double-speed CD-ROM, 8Mb of VRAM and a 16.8 million color "stream-through video" display. Its impressive 3D hardware is capable of manipulating over 360,000 polygons per second, as well as other capabilities such as shading, fogging, digital lighting and texture-mapping. With over 160 licensees and 200 titles in development, Sony expects to have approximately 20 titles at the September 9 launch of the system, and over 50 titles by Christmas. Immediate add-on accessories include a system-to-system "combat cable" and removable memory card for saving your games.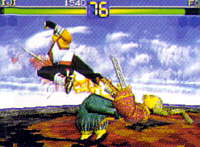 Battle Arena Toshinden - PlayStation
In addition to third party licensees, Sony will be supporting the new system with in-house releases. Early Sony releases will include RazorWing, a 3D simulation action/adventure where players must pilot an armored hover tank to destroy rebel forces, and Kileak: The DNA Imperative, a futuristic first-person action game set in a DOOM-like environment. In Kileak, the sinister Dr. Kim - his whereabouts unknown - has stumbled upon a terrifying new genetic combination. Players must explore 15 levels of fierce enemies and intriguing mind puzzles to put a stop to Dr. Kim's devious plot.
---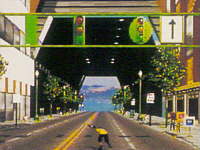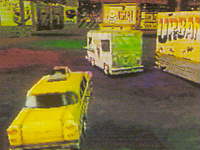 ESPN Extreme Games - PlayStation (left), Twisted Metal - PlayStation (right)
Sony Imagesoft
California games gone berserk, ESPN Extreme Games is a new title from Sony Imagesoft for the PlayStation. Challenges include inline skating, mountain bikes, skateboards and street lunges.
Twisted Metalwill take full advantage of the PlayStation's 3D engine with interactive environments and four different playing perspectives. The game includes 12 high tech vehicles in five 3D worlds, ranging from ice cream trucks, motorcycles, taxis and police cars, missile launchers and flame throwers. It also takes advantage of the PlayStation's combat cable for head-to-head play. Warhawk is a real-time 3D flight simulation game. Development is being done by SingleTrac Entertainment Technologies who has designed simulators for NASA and the defense industry. The game currently features 6 missions.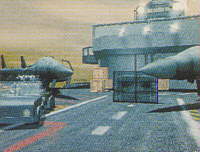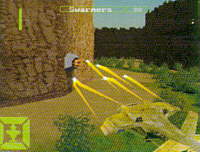 Virus - PlayStation (left), WarHawk - PlayStation (right)
Based on the feature film, Johnny Mnemonic will be released for the 3DO as well as the PlayStation. The game pits you as a cyberpunk data courier evading a group of high-tech gangsters who want the info inside your head. This game is a full screen full motion video adventure. Also debuted, Virus, based on the stand-up coin-op. This is a first person arcade style shooter, available for the PlayStation early next year.
---
Strategic Simulations, Inc.
SSI proudly announced the release of the award-winning Panzer General and Advanced Dungeons and Dragons Slayer for the Sony PlayStation for later this fall. Other upcoming strategy/role-playing releases for the PlayStation include Entomorph: Plague of the Darkfall, a dark fantasy adventure, and AD & D Deathkeep. Panzer General and Deathkeep will be cross-released on the 3DO.
---
SquareSoft
SquareSoft released information on their ChronoTrigger for the SNES, planned for a fall release. This 32Mb role playing game features time travel, where changes to the past change the outcome of the future. From the makers of Final Fantasy III, ChronoTrigger is promised to have active and interactive battle scenes, non-linear game play, a huge cast of characters, numerous mini-quests, realistic time travel, multiple-endings and more. Watch for ChronoTrigger this September.
---
---
[ New Contents ]
[ Classic Contents - Articles - Reviews - Comics - Codes ]
---