---
T*HQ
T*HQ made a major announcement of the conversion of over 24 Electronic Arts titles to the portable systems. Games will be released for the Nintendo GameBoy and Sega GameGear and titles will range from Madden '96, Jungle Strike and NHL Hockey '96 to PGA Tour '96 and Urban Strike.
Other upcoming T*HQ portable conversions and releases include Super Return of the Jedi, Sports Illustrated Championship Football and Baseball, and Shaq Fu. T*HQ will also be the exclusive distributor of the XBAND videogame modem in North America.
---
Qsound Electronics
Qsound Electronics brings surround sound to gamers with an innovative new joypad. Virtual Surround Sound GamePad (VSP) is a combination surround sound audio system and game pad with variable speed rapid fire and slow motion buttons. The VSP game pad will be available for the SNES, Sega Genesis and PC for the Christmas season.
---
US Gold
US Gold featured the ever-popular Flashback for release on the Atari Jaguar in June. Other upcoming titles include BC Racers for the Sega 32X - a stone-aged action racing game - and the sci-fi adventure Skeleton Crew for the Sega Genesis. Also of note, US Gold is bringing the original Mega Man to the Game Gear.
---
Viacom New Media
Viacom launched several eye-popping new titles at E3. The most heavily pumped title was Zoop, an action puzzle game. Players must fire at multi-colored shapes attacking simultaneously from four directions to eliminate rows of colored shapes. Zoop will be available in October for the Super Nintendo, Game Boy, Genesis, Game Gear, Sega Saturn, and Sony PlayStation. Phantom 2040, available in July, features deep gameplay with over 100 different weapon/item combinations and 20 different endings. New Nickelodeon/MTV titles are also forthcoming. AAAHHH!!! Real Monsters will be available in September for the Sega Genesis and Super Nintendo. Aeon Flux, from MTV's critically acclaimed Liquid Television, will also become an interactive CD game for the Sega Saturn and Sony PlayStation. Heart-stopping tension and high-pressure tight situations right from the series promise to make this title one to watch for.
---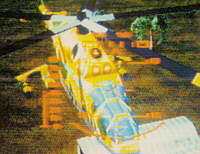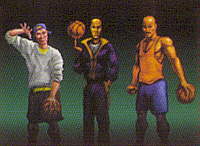 Agile Warrior - PlayStation (left), Converse Hard Core Hoops - PlayStation (right)
Virgin Interactive Entertainment
Virgin unveiled their new 7-Up game, Spot Goes to Hollywood for the PlayStation, Saturn, 32X and Genesis. The sequel to the original favorite blends 3D and traditional animation for an all-new look and feel. Dynamic worlds spoof such classic films as Pirates of the Caribbean, Mutiny on the Bounty, Aliens, Star Wars, Dracula, Frankenstein, Indiana Jones and others. Spot goes to Hollywood will be available this winter.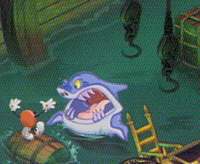 Spot Goes to Hollywood - PlayStation
Agile Warrior:F-111X is a flight shooter arcade game for the Sony PlayStation. Your hybrid aircraft thrust into real-life combat armed to the hilt with MK20 cluster bombs, BLU-107 napalm canisters and a GE 20mm Vulcan cannon. This winter release also includes 20 minutes of full motion video and a real-time 3D texture mapped environment. The 11th Hour, the sequel to the dark and mind-bending 7th Guest, will be released this winter for the 3DO, Sony PlayStation and Sega Saturn. Players follow Carl Denning, investigative reporter, as he searches for his producer and lover who has disappeared in Henry Stauf's hometown 70 years after the original 7th Guest mystery occurred. Two sports titles, Converse Hardcore Hoops, a city street basketball game, and 3-Decathlon, a 3D rendered arcade-style track and field game, will also be released for the Sony PlayStation. Converse Hardcore Hoops will be cross-released for the SNES, Sega Genesis, and Sega Saturn.
Internet users will also be interested in Monopoly CD-ROM by Parker Brothers, one of the first CD-ROM games playable through the internet. Up to six Windows users with SLIP and Web access can play per group; the game will be available in three languages, and will convert all the translations, including currency, in realtime. Up to four players can join in network mode; and two in modem mode. Rendered 3D graphics and over 800 animations further enhance the gameplay.
---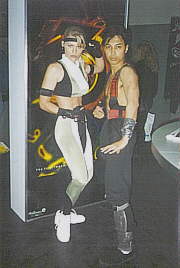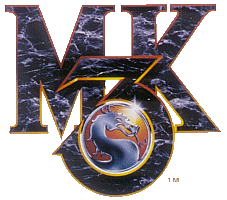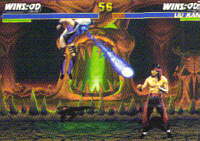 Mortal Kombat III was the highlight of the Williams Booth (screen shot, bottom, PlayStation version)
Williams Entertainment
Friday, October 13, 1995 will be Mortal Friday, when Williams Entertainment plans to release Mortal Kombat 3 for the Sony PlayStation, to be followed by a release on virtually all home systems in early 1996. If you haven't made it to the arcades yet, MK3 offers twice as many hidden features as MKII, plus all new fatalities, friendships, babalities, animalities, hidden passwords and secret moves.
Williams will also be releasing DOOM on the Super NES. DOOM uses the FX2 chip to pack in 22 gruesome levels and more dismembered body parts than you can shake a stick at. DOOM will be available early September.
---
---
[ New Contents ]
[ Classic Contents - Articles - Reviews - Comics - Codes ]
---